What is Pix?
Pix is an instant payment platform created by the Central Bank of Brazil. Operational since November 2020, it now accounts for almost a third of all payments made in Brazil. Pix supports transactions 24/7, every day of the year including weekends and holidays.
The key facts are:
Payments are instant: notification of payment and the transfer of funds to Volt happens within 10 seconds
There are currently no chargebacks
Pix is free for shoppers
Refunds are supported
Every transaction has a unique ID, making reconciliation easy
How Pix works
When a shopper selects Pix at the checkout, a QR code is displayed on the screen. They scan this code with their smartphone and the transaction details appear on their banking app, ready for confirmation.
If the shopper is buying from their phone, the shopper can use a Pix code instead of a QR code, which is pasted into their banking app. Transactions are confirmed instantly and settled to Volt's account.
Every transaction has a unique ID, making reconciliation easy. There's a 20-minute timeframe for transactions to complete, though 95% take less than 10 minutes.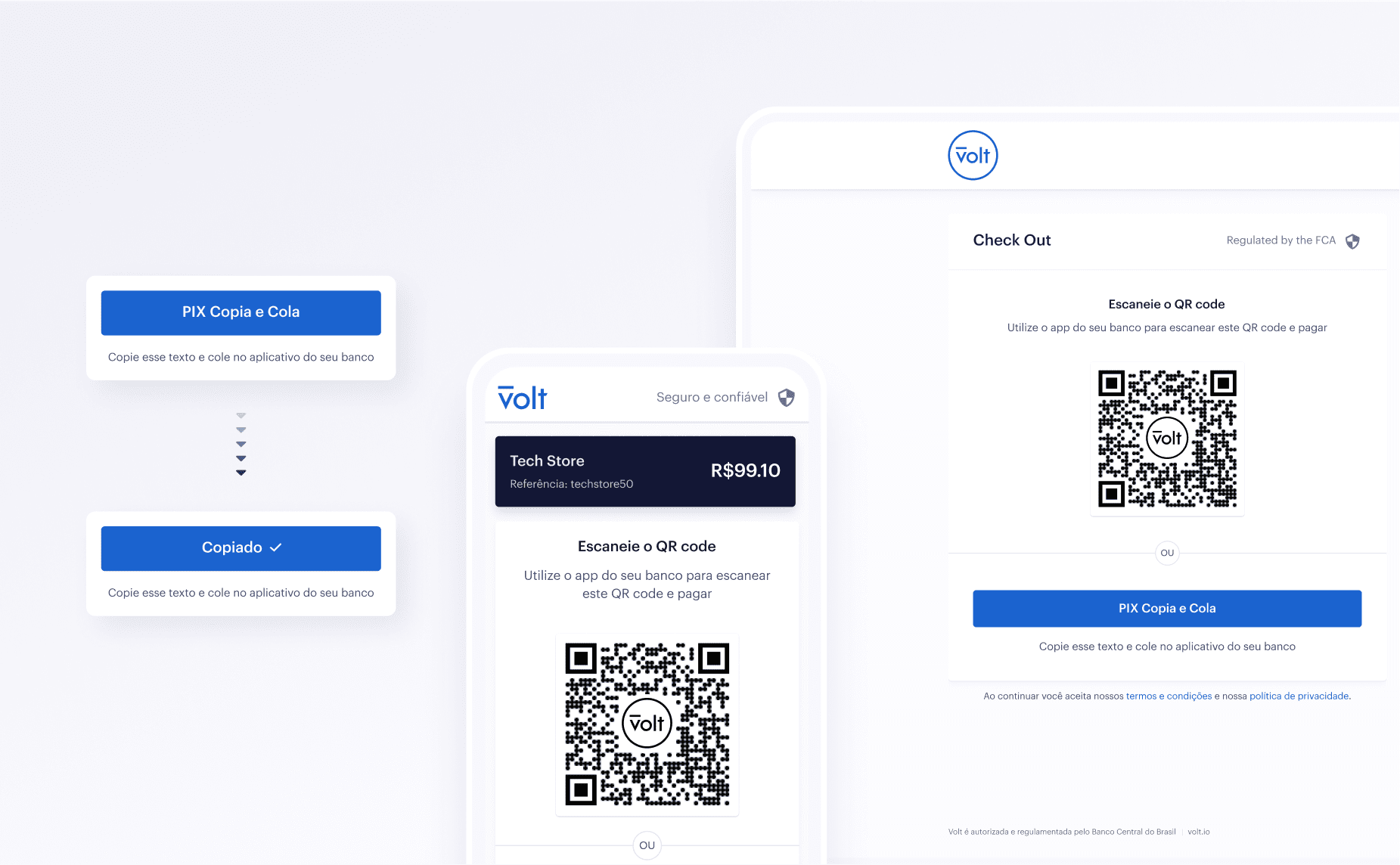 Technical integration
The only difference to the Core Volt Gateway integration is that the document ID (such as CPFs – Brazilian tax IDs unique to each person) must be included in the payment request under the payer object.
Payment flow

Local processing
For processing within Brazil, merchant funds are settled through Volt BR. For this to happen, a contract is needed between Volt BR and the merchant. The merchant will receive an invoice at the end of the billing period.
Cross-border
For cross-border payments, funds are received by Volt BR and the FX is performed through Bexs. Following this, the merchant is settled. For these payments, the contract is signed between the merchant and Volt UK and the merchant will receive an invoice for the agreed fees.
Chargebacks
Chargebacks are triggered only for fraudulent transactions. If a shopper warns that a transaction was fraudulent, they must present a police report to the bank so it can block the money to investigate. This block can last for seven days, during which the merchant is free to send documents as evidence that the transaction was legitimate. The sending and receiving banks have the final decision over whether the transaction was fraudulent and if a refund should be issued.
FX rate
This is calculated when Volt receives a customer's payment, and is displayed on the detailed transaction view. We are building a solution that shows an approximate FX rate before a payment happens, which will enable FX rates to be seen before a transaction is made.
Restrictions
When making cross-border payments, there is a limit of 1,000 USD per transaction. Higher limits can be discussed
Due to the higher taxes and complex processes, merchants are not advised to sell goods above 3,000 USD
As goods priced under 3,000 USD can still be taxed, it is advised that merchants show a warning to customers about potential import tax and the postal fees that are charged when goods arrive in Brazil, which customers are liable for
Onboarding procedure
There are onboarding procedures for both local and cross-border processing:
Local processing
The contract between Volt BR and the merchant is signed
Know Your Customer (KYC) compliance check is approved 
The merchant needs a valid local entity in Brazil, as well as a Brazilian bank account (for settlements)
Test transactions using CPFs (Brazilian tax IDs unique to each person); every Brazilian uses theirs when buying
International processing
The contract between Volt UK and the merchant is signed. If the merchant already has a contract for Europe then it is a simple addendum
KYC compliance check is approved
The merchant needs a non-Brazilian bank account for settlements
Test transactions using CPF