About Connect
Connect, our cash management suite, helps you manage your cashflow from receipt to reconciliation.
Payments are routed via a virtual IBAN, issued by one of our banking partners. This allows you to have full visibility of the payment value chain, and to be notified the moment funds settle. If you're already set up with Volt Gateway then integration consists of one additional configuration in Fuzebox. 
Receipt confirmation
When a payment is received into your virtual IBAN, we'll automatically reconcile the payment received against the payment instructed and send an instant "payment received" notification to you. This enables you to ship goods or release services in the knowledge that the payment has arrived.
Batched settlements
Info
The following functionality is optional. You can choose to manage the Volt Connect account yourself in which case we will not be creating any automated settlements. Please provide the model you wish to operate under to your Volt representative while onboarding (you can choose to change it later).
Periodically, the payments you receive into your Connect virtual IBAN will be totalled and a single credit will be settled to your nominated bank account. You'll receive one settlement payment per currency.
If you need any assistance, please email us at support@volt.io. 
Setup and configuration
Before you continue with Volt Connect...
This documentation assumes you've already completed the core Volt Gateway integration.
Onboarding
For Know Your Customer (KYC) and regulatory purposes, you may need to be onboarded separately by one of our banking partners for a specific jurisdiction or currency requirement. Your account manager will assist you with this process and any additional documentation that may be required.
Currently, Connect provides cash management services for the UK and Europe. As further currencies and jurisdictions become available, you will be automatically notified in Fuzebox.
Configuration in Fuzebox
The only thing you'll need to configure is your report notification URL. This is where we'll notify you of confirmed settlements, and that your settlement report is available to download.
Once you receive this notification, you'll also be able to receive data on received and settled payments using the Volt API. This can be set to the same URL as payment notifications if preferred. 
Once Connect has been integrated, click on the Cash Management settings button in your customer details screen.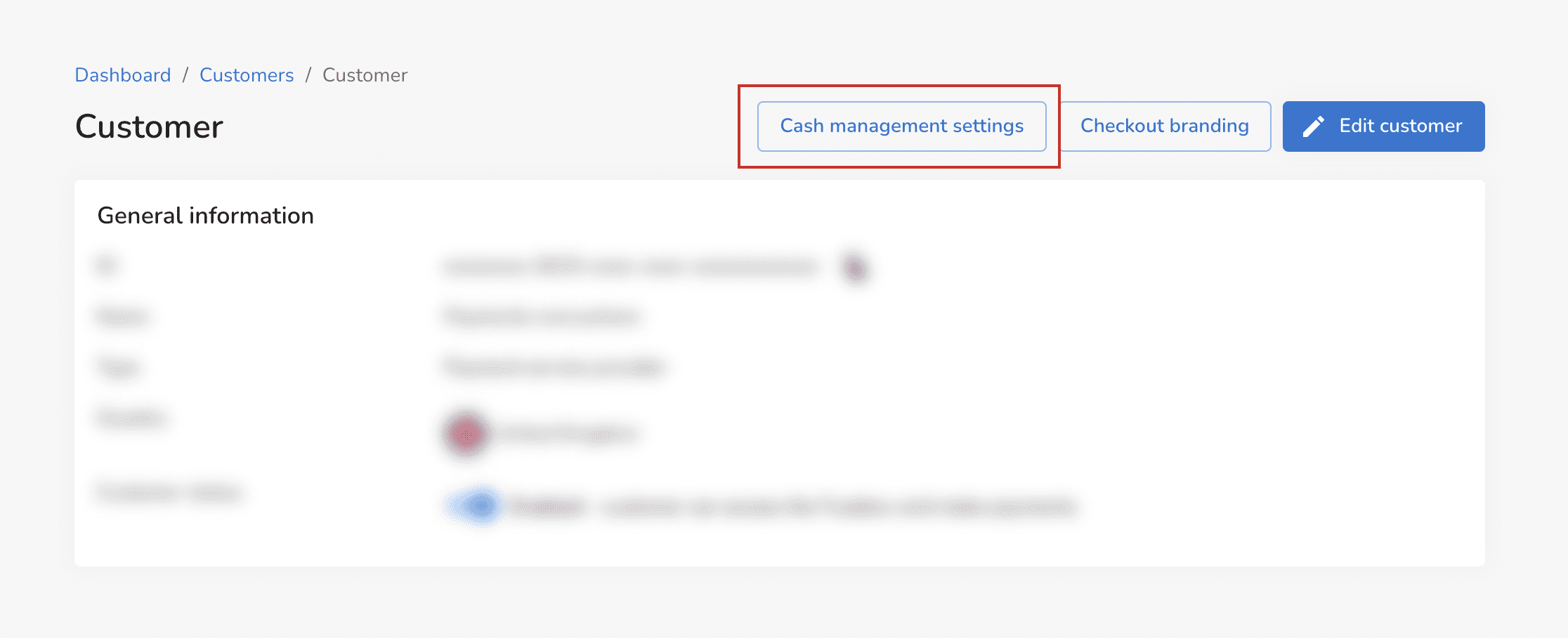 Cash management settings
From here, you can see the currencies you've enabled and which additional ones are available. If you'd like to enable Connect for another available currency, please contact your account manager or send an email to support@volt.io.